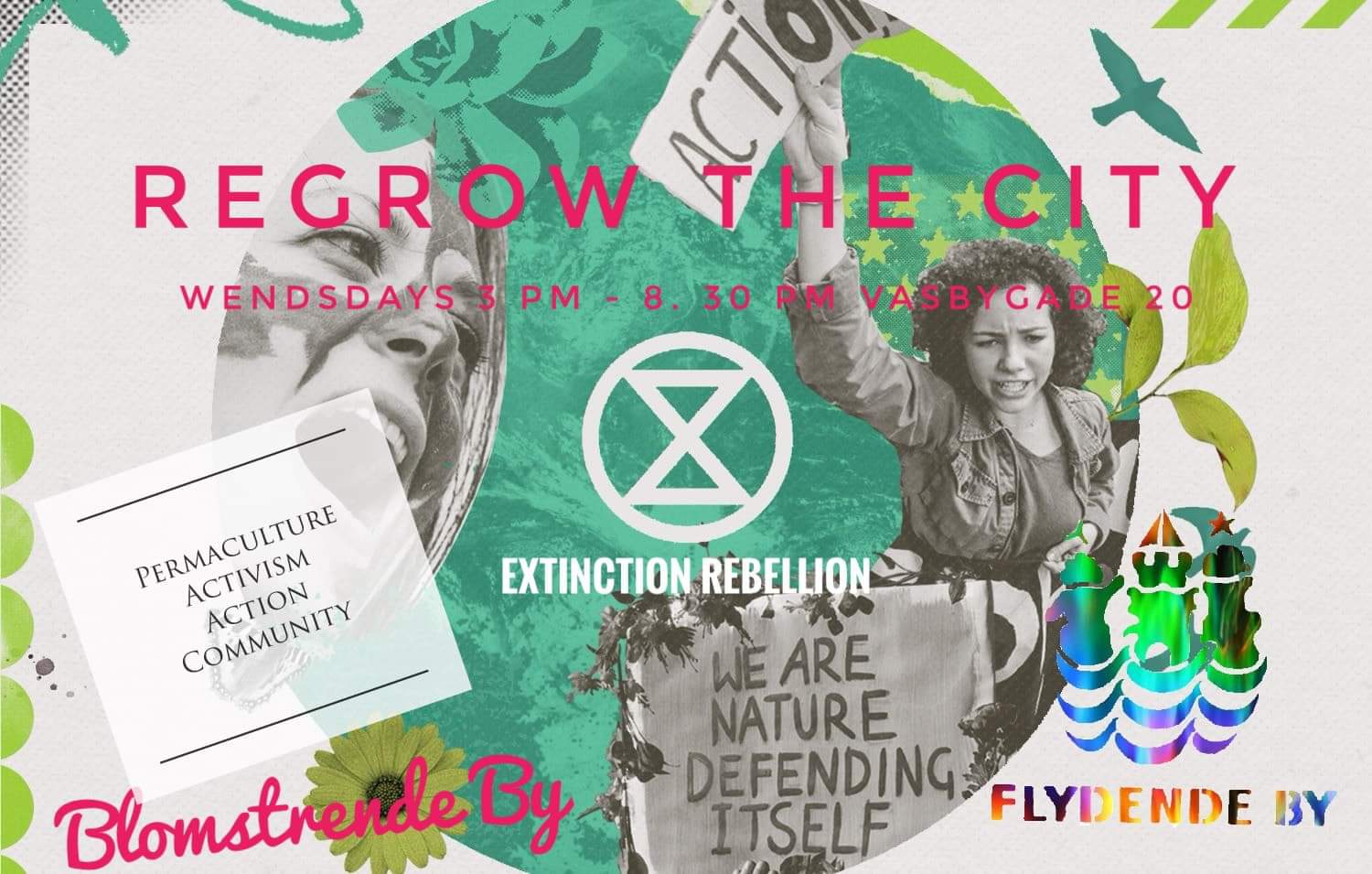 Last minute change: Event is on Wednesday 8th and not Thursday 9th (English below)  Kom og vær med til at starte en permakultur have og et spirende fællesskab om grøn aktivisme og permakultur!   Vi fortsætter successen og inviterer til endnu en Herlig Havedag i Flydende By! Vi er nogle venner fra Extinction Rebellion, Blomstrende By og Flydende By, som gerne vil starte en permakulturhave og et fællesskab op i Flydende Bys varehus på Vasbygade 20. Her vil vi sammen nyde planternes univers, lave community gardens ( og private haver hvis folk ønsker groplads), møde nye søde planteinteresserede og ligesindede, dele viden og erfaring og sammen opbygge den forhåbentligt smukke og spiselige have.   Fra den store permakulturhave er vores ønske at lave bæredygtig aktivisme og forsøge at inspirere resten af København til at øge biodiversiteten og sundheden i byen. Igennem Blomstrende By har vi desuden ca. 200 gadebede rundt i København, som man allerede nu kan adoptere som sit eget, helt gratis! (Eneste krav fra Kommunen er at man holder det pænt og ryddeligt)  På denne dag inviterer vi alle til at komme og være med til at starte denne have og blive en del af vores spirende aktivist- og grofællesskab. Vi kan sagtens være flere!  Skal man vide noget om planter i forvejen? - Næ! Sammen finder vi ud af det! Nogle har meget erfaring, andre er helt nye.  Skal man være aktivist eller have lyst til aktivisme? - Heller ikke! Der er plads til mange forskellige i vores fællesskab og der vil være mulighed for bare at have sin egen have, bygge den større op med egne ideer, eller arrangere en demonstration hvis det er det man har lyst til. Kun fantasien sætter grænser! Så kom med dine ønsker og visioner.   Vi har masser af frø til alle samt frugt og snacks. Tag gerne selv mad med, ellers kan man købe sig med i aftensmaden for 20 kr.  Ellers er dagen gratis, men en donation til at opbygge faciliteter og ressourcer er meget velkomne. Mobile pay er 24245161, skriv Make CPH green agin.  
Program:
 Vi mødes kl 15 og går i gang med at vise rundt og lave nogle praktiske ting. Vi skal blandt andet lægge flis ud, bygge plantekasser, beskære nogle træer, så lidt nye bede mm. Når alle er kommet til lave vi en lille introduktion til permakulturens filosofi samt dette initiativ. Vi snakker om folks ønsker og hvad vi sammen kan gøre for at gøre KBH mere grøn. Hvis der er mere tid forsætter vi det praktiske arbejde. Kl 19 spiser vi og slapper af. Vi samler op på de nye ideer og aftaler hvad vi skal fremadrettet og hvornår vi mødes igen.   —————————————————————————– 
English:
  Come and join this flourishing new community of green activism in Copenhagen. We are aspiring to create a new permaculture garden and make CPH greener!
  We will continue our success from last time, and would like to invite you to our second gardening day event out in Floating City (Flydende By) We are an initiative between people from Extinction Rebellion, Flowering City and Floating City, who would like to start this community of making permaculture gardens and a greener city, starting out in Floating City on Vasbygade 20.  Here we are together expanding and exchanging our knowledge of plants and community gardens, as well as meeting new likeminded people who together can make things grow and develop this new green initiative of permaculture gardens and making CPH more green. From the bigger Permaculture garden it is our wish to make sustainable activism, and try and inspire the rest of Copenhagen to increase biodiversity in the city and also make for a more healthy city. Through Flowering city we also have more than 200 available small gardening spots around in Copenhagen, which you can adopt as your own, for free! (The only requirement is to keep it a bit clean and tidy) On this day we will invite everyone to come and join and be a part of this new community, as we can of course become more, and the more we are, the better!  Do you need to know anything about plants to join?  Not at all! Together we will exchange our knowledge and help each other out. Some have a lot of experience, others are new in this and just curious to learn more.  Do you need to be an activist or do activism to join?  You don't need to do this either for joining. There is space for everyone in this community regardless of your earlier experiences. We have room for all types of people! You can also just join to get and adopt your own little gardening spot, or come and exchange your ideas, or make a demonstration if thats what you would like.  Only your own imagination is the limit. So come along and join with all your creative ideas and visions! We have lots of seeds, fruits and snacks. You can also bring your own food, or buy a nice vegan dinner for a cheap donation price (20 dkk)  The day is free for everyone to join, but of course donations are welcome as it can help us sustain the community! Mobile pay 24245161 and mark "Make CPH green again" to help os develop this further. 
Program:
 We will meet at 15:00 and start doing some practical gardening stuff. We will start out with laying some wooden tiles, build more plantbeds and plant them, prune some trees and plant mm. When everyone have arrived we will make a short introduction of ourselves, of permaculture and some of its principles and this whole new initiative. We will talk about peoples wishes and what we can do to make CPH more green. If there is more time left, we will continue with the practical activities and relax. In the end we will make a summary of what we did, what we can do further the next time we meet.